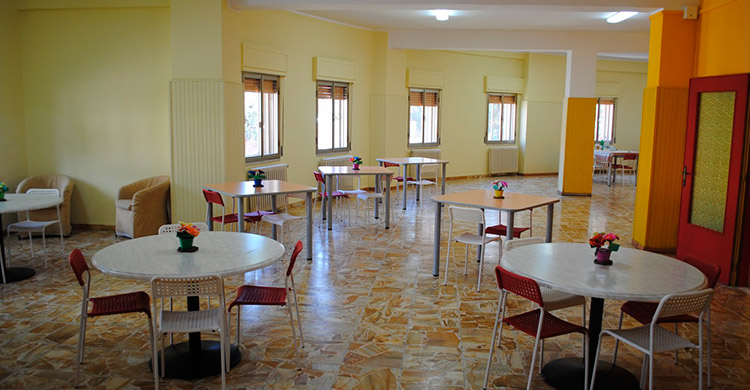 The center
Unisanitas, nursing home for the elderly, the young and who is not more young , it is a center equipped at its best to offer health, psycological, medical and rehabilitative assistance.
Our staff offers a qualified and continuative work to make the quality of life into our facility really high. We offer medical assistance and:
an accommodation, above all ideal for the elderly, with bedrooms equipped with private service, beds with hidden borders and controllable head;
food, with indoor restaurant;
gym, attended by our Guests and physical therapist to do low-impact exercises or customized exercises, according to everyone's needs, such as the rehabilitation for the elderly or for who has orthopedic problems;
barber and hairstylist on request.
Furthermore, our center guarantees daily health care and nursing assitance, 24/7, thanks to a professional staff, that is really kind and always pay a great attention to the elderly; health assistance with a consultant doctor; psychological assistance thanks to a specialist who is available on planned days and physiotherapic, physic and occupational therapy.
Into the center are planned laboratories that consider the person first and take into account everyone's education. Every laboratory is organized in groups compound by 5-10 persons, that are choosen in a homogeneous way after a brief test. The average duration of every activities is an hour and half, once a week, but usually it is made according to the features of every group.
Service
Charter
Services Offered
FRONT OFFICE WITH
THE HOSPITAL OF CASTEL DI SANGRO
The Guests of our nursing home for the elderly can rely on the assistance of a consultant doctor and of their attending doctor. Furthermore, they can count on the ambulance service offered by the Italian Red Cross 24/7: in ten minutes it is possible to reach the hospital in Castel di Sangro, less than a kilometer far. Who has special needs, can instead count on the service offered by the hospitals in Sulmona and Chieti, that can be reached by helicopter.
Learn more
WE TAKE CARE OF YOUR WELL-BEING WITH
A VERY EFFECTIVE HEALTHCARE
• Daily medical assistance
• 24/24 h nursing assistance
• 24/24 h health care assistance
• Psychological assistance
• Daily rehabilitation assistance
Learn more
Do you want information
about our structure?
For any questions or concerns please do not hesitate to write to us or call us.